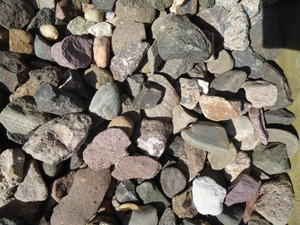 20mm Gravel
River Gravel mixed with sand is extracted from ancient inland river beds from around the Tayside region, the product goes through varying grading processes where the sands and "stones" are seperated and graded into 10, 20 and 40mm products. The gravel may be described as a mixture of different shaped and coloured stone with a overall colour of brown to grey.
Typical uses;
Production of concrete
Drainage beds
Paths
driveways
gravelled surfaces
Dependant upon the source, the product may arrive "dirty" and bland. A quick shower or hose down will remove the dust or sand surface to expose the colours.
Sold in poly bags at £2.00 for approx 25kg.
A bucket into your trailer at £33 approx 1 tonne
and all weights in between measured by an experienced eye eg half bucket £18 and approximately half tonne.
Delivered by Transit size Tipper to anywhere we can safely drive. £33 per tonne locally in Dundee plus £10 delivery
If you would like to make an enquiry about the 20mm Gravel, please use the form below or you can contact us by telephone:
email: .
Thank you ! Your message has been sent. We will contact you within the next 24 hours..