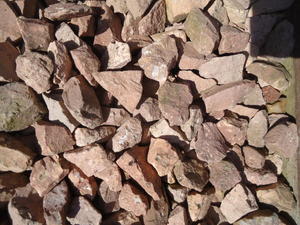 Balmullo Chips
Balmullo chippings are quarried in Balmullo, Fife, on the east coast of Scotland. The colour is somewhere between orange/pink and should not be considered as red. Available in Bulk loads, loose from our yard to your pick up,or poly bags, and delivery in poly bags or loose bulk
MANAGERS SPECIAL FOR REMAINDER OF MAY/JUNE £73 PER BUCKET FROM OUR YARD.
Poly Bag £4.00
Delivery by tipper £83 per tonne locally
If you would like to make an enquiry about the Balmullo Chips, please use the form below or you can contact us by telephone:
email: .
Thank you ! Your message has been sent. We will contact you within the next 24 hours..